The Wood Design Company Ltd was established in 1996 for the provision of CNC Cutting and Routing services to Industry, Local Government, Wholesale & Retail Suppliers and direct to the General Public.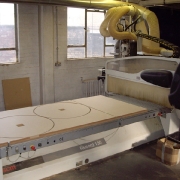 We manufacture high-grade products in a range of wood, MDF, plastic and acrylics, and have established an enviable reputation for quality and reliability. Our products encompass the Office, Home, Business premises and Outdoors, and can be supplied in a wide range of wood finishes and styles.
Our 4,000sq workshop contains specialist CNC equipment which is controlled by our programmers and skilled craftsmen. This enables us to make a wide range of precision products in large quantities. Large contracts are undertaken.
We aim to manufacture the products that our customers want. If you need an item in a special material or finish, or something you can't find elsewhere due to unavailability or size, we will use our best efforts to supply you…