The entertainment section of a travel company approached us to make two sets of six  horses for use in a game. Each horse was finished in a different colour and individually named.
By means of a thick dowel attached to the front of each horse and some stout string, the competitor winds the horse along the track. The first passed the post being the winner. Each horse was flat packed for export.
Just one of several projects we undertook utilising our computerised CNC routing machines.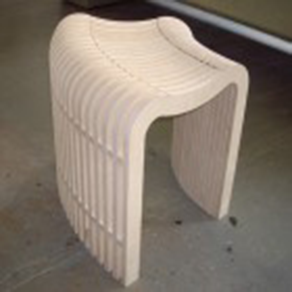 Sitting Pretty - Seat Design Prototype
It looked good on paper but how was a student to present her design for this, the final art and design project?
The subtlety of the curvature and clean lines to her seat required an equally sublime approach to the construction. Enter The Wood Design Company.
Working closely with the designer, passionate that we interpreted her creation correctly and scrutinising its construction, she was rewarded with this chair manufactured from 18mm Birch Ply. The finished result was everything she hoped it would be, boosting her aspirations to become a fully qualified designer.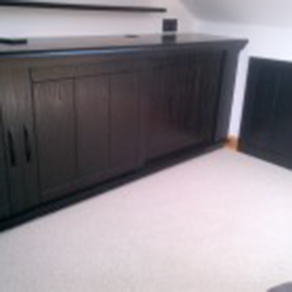 You describe it, we'll make it
The Wood Design Company was approached to create a set of components that would exactly fit the requirements.
The furniture shown is made from Ash veneered MDF, stained black and lacquered to give a refined finish.
Because we make everything from scratch we can create a look or shape to suit most eventualities in a wide variety of materials. For more information on projects like this call us on 01482 325409.